Thank you to all those fabulous humans who came out to the Pickle District After Dark II Festival 2022 last week.
We were absolutely blown away by the turn out and the creativity of the evening. If you missed out, ensure to follow @thepickledistrict and @cleaverstreet on socials to see pics and catch up on all the upcoming events around the hood!
Here's what else is going on with us this month: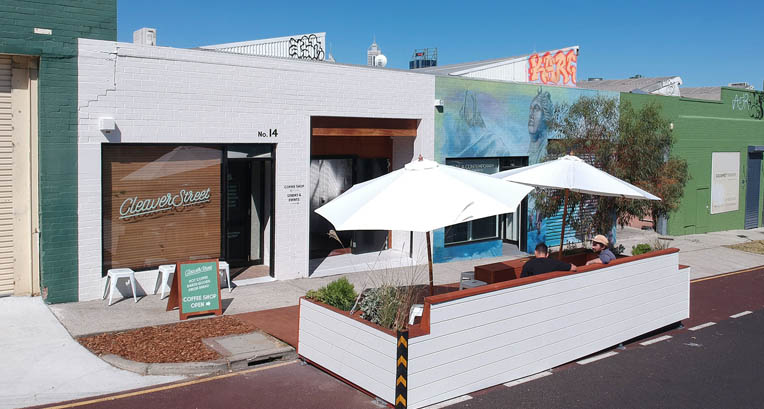 Cleaver Street Coffee
For those of you who haven't heard yet, we've relocated to the front of our studio at 14 Cleaver Street West Perth to serve up some serious coffee, badass avo on toast and all sorts of take-home goodies, and if you're quick enough you might catch some of our Miller + Baker's cult-favourite seeded sourdough before it sells out of a morn. We've also just expanded our menu with some new favourites like our freshly made four meat conti rolls and vego conti made with our house made basil pesto may, ham and swiss gruyere toasties with Frankie's New York Deli Pickles and tequila jalapenos, and our peanut butter and mango passion yogurt cups for you to devour. We'll soon be expanding our opening hours to welcome you for your Sunday morning caffeine hit too, so watch this space. For now, join us Tuesday to Friday from 6am – 1pm, and Saturday mornings from 7am until 12pm.
Open Hands Creative Workshops
The gorgeous people at Open Hands Creative have a couple of fun workshops in our event space perfect for a cruisy date or girl's catch up. Be sure to check out their Fine Line Botanical Workshop on Sunday 22nd May and keep your eyes peeled for more events like their sketch nights and pressed flower framing workshops via their socials or website.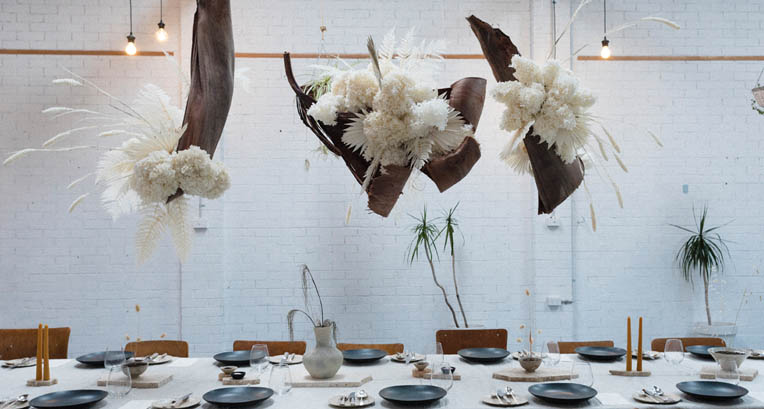 We like to party.
If you're trying to channel a relaxed, earthy, green vibe for your next event, look no further than our Cleaver Street Event Space. The white walls and high ceilings make it the perfect intimate space for any sort of gathering with a fully BYO bar space and functional kitchen, we're ready to help you create your perfect evening. Make it your own with a neon sign from Funky Neon, a streamer installation from Epic Installs, some marble accents from M Event Hire and some fabulous florals from the brilliant Rose and Bud. Contact us on our events enquiry form to find out how to create magic!
What's happening around us?
Stala Contemporary
Our neighbour at number 12 Stala Contemporary are constantly holding fabulous exhibits showcasing bold and brilliant artists from around the world. Ensure to get in early for the 'Expander – STILL LIFE'' exhibition. This annual series highlights a range of invited artists celebrating a diverse range of contemporary pieces using still life as their inspiration kicking off 11th May. Hit the site for more info and times.
Old Habits Bar
This brand-spankin' new neighbourhood bar nestled into 7 Old Aberdeen Place in West Perth is your new go-to destination for a cruisy, delicious night out with friends or date night. The bar's drink menu is unapologetically Australian and boasts some extensively curated and curious cocktails ready for you to enjoy. Get down there before the rest of Perth finds out.
Drummond Gallery
Perth photography giant David Brittain has just opened this divine small gallery showcasing some of WA's best and most unique talent. Get down to have a browse or visit their work here.
House of Hobby @ Hobby Studio
This little creative hub on Drummond Place aims to bring like-minded people together to find new passions running weekly workshops of pottery, painting and more all over a glass of vino. Get a few friends together and check out their extensive range of fun and ever-changing classes!
With so much going on around us, it's the perfect time to get down and try out our new menu with a brew!
Big love until next month,
Cleaver St
xx